The core component of this project is the software on the Raspberry Pi that collectively takes an image as input and outputs a mavlink message providing position to the drone. The first part of this is a node that outputs a calibrated image from the camera, based on a prexisting ubiquity robotics node.
Then, the ROS apriltag library helps identify any apriltags that the camera can see and establish relative position to the drone. We predetermine the positions of all apriltags relative to the world by using a tag 'bundle', and then we can apply a series of tranformations that allows us to get the drone's position relative to the world.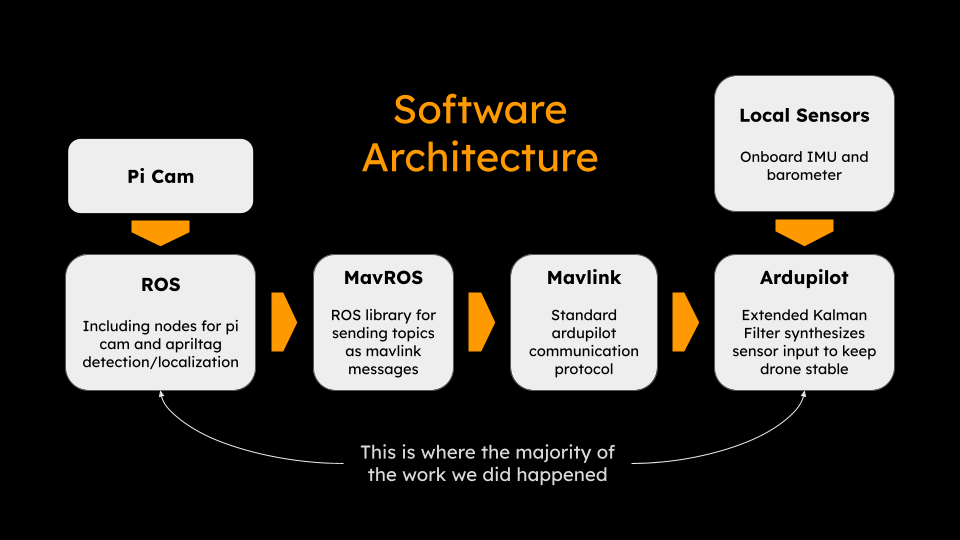 Finally, this message needs to be converted from a pose into a mavlink vision position message. Another node takes care of this process, with the help of the MavROS package to translate the resulting ROS topic into a format that can be read by the autopilot.
The other major component of this project was setting up the autopilot to function with the vision position input. This is done by modifying the internal kalman filter to use input from the AprilTag vision system as well as internal sensors such as gyroscope and accelerometer. The vision system only provides an update rate of about 10Hz. While this is enough for a navigational positioning system, the drone needs much faster sensor input to remain stable. Fortunately this is provided by the accelerometer and gyro, which maintain effective odometry while the vision system provides slower absolute positions.